What's New at HMD, the Home of Nokia Phones?

HMD Global, the home to Nokia phones, just announced the Nokia 8 V 5G UW, an upper-mid-range Android smartphone, exclusive to Verizon in the U.S. This new phone sports a large 6.81" screen featuring HMD's PureDisplay with the Pixelworks i3 visual processor and is supported by Verizon's blazing-fast 5G Ultra Wideband network (that's what the "UW" stands for). Pixelworks' technology provides a visual processing boost so that the rich video and gaming experiences that come with gigabit connection speeds look truly 5G-worthy on-screen. But first, before I take you through more details about this exciting new device, a little history…
PureDisplay Journey with Pixelworks
HMD pioneered the concept of an affordable (mid-tier) flagship visual experience in 2018, with the introduction of the Nokia 7.1 and the PureDisplay brand, powered by Pixelworks technology. With unique always-on HDR (high dynamic range) video quality as the key differentiator, the Nokia 7.1 was the first LCD smartphone to achieve HDR10 certification at major streaming content providers, such as Amazon Prime Video, based on Pixelworks' industry-leading tone mapping technology. And with that milestone, LCDs chalked up another point in the ongoing tech debate versus AMOLEDs. With help of the tiny, yet powerful Pixelworks i3 processor, HMD proved that LCDs can stand toe-to-toe on virtually any key aspect of display performance with big AMOLED phones that are 2-3 times more expensive.

HDR performance of the Nokia 8 V 5G UW is superior to many AMOLED displays that don't use Pixelworks technology and is HDR-certified by major U.S. content streaming companies. Source: https://youtu.be/8niA5d6IHLk?t=35
V Stands for Verizon
Since 2018, the Pixelworks partnership with HMD has produced several more PureDisplay models, including the Nokia 6.2, 7.2, 8.3 5G and now, the Nokia 8 V 5G UW. This is the company's first flagship smartphone available through Verizon and underscores HMD's increasing recognition in the U.S. market. The new Nokia 8 series product is built on the Qualcomm™ Snapdragon® 765G mobile platform with an insanely fast 5G modem that supports millimeter-wave frequencies and other bands, where Verizon is estimated to have ~one million times the bandwidth than they started with in 1984[1]. This trend is driving the availability of more immersive content, the need for bigger and brighter smartphone screens, and heightened consumer interest in display quality.
Trifecta of Benefits
PureDisplay display technology, powered by the Pixelworks processor, ensures that every pixel is rendered with artistic perfection, delivering a cinematic experience to the phone's big beautiful screen. The key ingredients are Always-on HDR, Perfect Color and Adaptive Clarity and, of course, delivering it all at an affordable price. So let's break this down.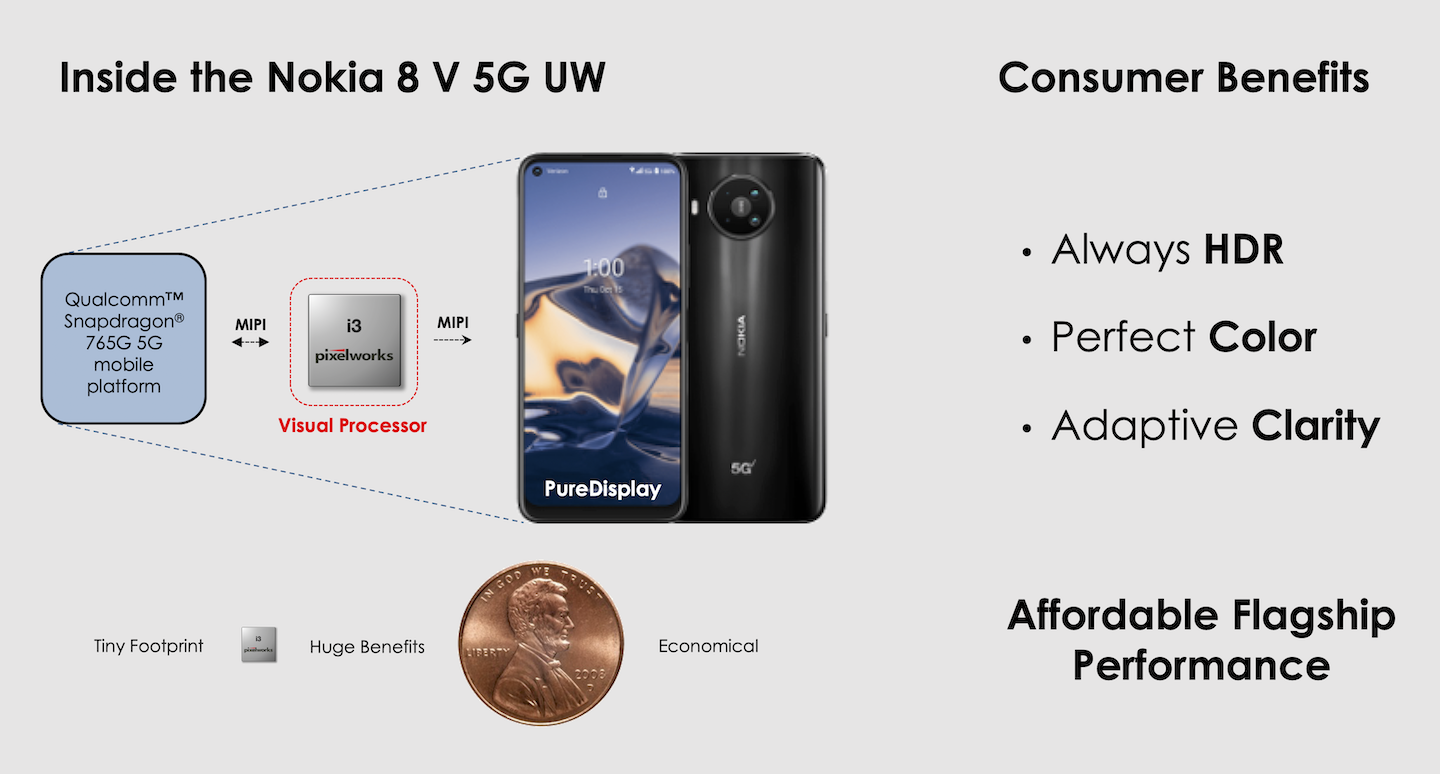 Always-on HDR
While some streaming providers are producing new original content in HDR, the vast majority (an estimated 98%[2]) of video out there is only available in standard dynamic range (SDR). There is nothing more underwhelming than seeing SDR-formatted video (or gaming content) on an HDR capable screen or vice versa ("dull" is the word that actually comes to mind). Pixelworks technology rescues consumers from display mediocrity by converting SDR content to HDR in real time, delivering up to 60x more color depth[3] and up to 20x better contrast[4], for an always-on HDR experience. Watch HDR explainer video

Perfect Color
The foundation of visual quality is color accuracy. Every Nokia 8 series phone is factory-tuned with the patented Pixelworks display calibration technology, which runs on the Pixelworks i3 processor and precisely matches the rendered content to the color gamut of the display. This enables the most immersive content to be both brilliant and color accurate. But it's not enough just to perform well in a dark test lab. The nature of the mobile viewing environment is that ambient lighting conditions constantly change and influence your perception of color accuracy, among other things. To maintain a consistent visual experience, Pixelworks provides a number of advanced, adaptive display features that are discussed in the next section.

How do you define perfect?
Just for fun: Delta E2000 algorithm
Thankfully, there's a standard for that. It's the CIE Delta E2000 standard, or just delta E for short. In the delta E scale, the lower the number, the more accurate the color, where 2 is the threshold for perfection. In other words, a delta E of less than 2 means that to the human eye, the displayed color is indistinguishable from perfect when compared to the correct color on a professional reference monitor. To put this in perspective, the Nokia 8 V 5G UW with Pixelworks calibration comes in at an astonishing average delta E of 0.8[5]. That's 2.5X better than perfect!
Adaptive Clarity
Today's mobile and Wi-Fi networks create a ubiquitous umbrella of anytime, anywhere access to everyone's favorite content. But anyone who has tried to use their phone in bright sunlight, or in a dark room, knows that that it can be a challenge for mobile displays on even the most expensive phones. These scenarios can lead to eye strain or visual fatigue, especially when you want to binge on your favorite show or game as the sun sets or shines on the screen. LCDs have two key advantages over OLEDs; superior contrast in bright sunlight and the absence of screen flicker at very low brightness. When coupled with Pixelworks auto adaptive display features, LCDs like the Nokia 8 PureDisplay not only maintain color accuracy and clarity, but also offer superior eye comfort during sustained usage in a wide variety of viewing conditions.

The Nokia 8 Series PureDisplay with Pixelworks optimizes clarity and eye comfort across all viewing environments with a combination of features that work in concert with the phone's light sensors to dynamically optimize the screen's brightness, color tone, contrast and sharpness for the content and in response to changes in the ambient light.
Dynamic Mode: Bringing It All Together
| | |
| --- | --- |
| | The PureDisplay Dynamic Mode and Pixelworks processor together take the visual experience one step further by customizing display appearance. As shown in the phone's menu (left side), the color and contrast of the display can be set to automatically adapt the picture quality for each app so it closely matches user preferences for each mode. |
Flagship Performance at an Affordable Price
With the holidays almost upon us and tighter budgets, the Nokia 8 V 5G is an ideal smartphone gift. True to its PureDisplay tradition, this Nokia 8 series flagship, combines affordability with an exceptional visual experience. In addition to its superior 6.8" IPS LCD display with a pixel density of 386 ppi, the phone sports 6 GB of RAM, 64 GB of storage, a triple-lens camera on the back with a 65-megapixel main sensor, a 2 MP depth sensor and 2 MP macro lens, making this phone a must-have for today's value optimizers.
| | |
| --- | --- |
| The Nokia 8 V 5G UW PureDisplay visual experience, powered by the Pixelworks processor, delivers cinematic video, immersive gaming and more, with always-on HDR, perfect color and adaptive clarity. So, if you are on the look-out for a truly premium display experience without a premium price tag, be sure to check out the Nokia 8 V 5G UW, now available for $699 USD at Verizon. | |
More product information can be found in the following links:
Footnotes
[1] Peak theoretical bandwidth growth based on estimated increases of ~100x in total radio spectrum and ~10,000x in spectral efficiency from 1984 to 2020. Sources: 3GPP Specs TR38.913, TR36.912. FCC, 800 MHz Cellular Service, Fierce Wireless, April 1, 2020. Antennas Get Smart (Cooper's Law of Spectral Efficiency), Scientific American, June 9, 2003. Assumes AMPS 20 MHz bandwidth, 10 kbps/channel, N=7, 15 km2/cell. 5G >2 GHz bandwidth, 1 km2/cell.
[2] Sources: Streaming Observer 2019, Trusted Reviews, 2019 and other public sources including streaming Web sites, Pixelworks research and analysis
[3] Source: UHD Alliance. SDR: 256 shades of each primary color (R, B, G) or 2563 = 16.8M. HDR: 1,024 shades of each primary color (R, B, G) or 1,0243 = 1.0B
[4] Contrast: Typical SDR to HDR improvement is ~20x for LCD = 6x (100 nits to 600 nits) multiplied by 3-4x contrast increase from DBC, a patented HDR-optimized technology from Pixelworks that improves video contrast (source: Pixelworks).
[5] Average delta E, based on lab testing in standard sRGB and DCI-P3 color gamuts, per the International Commission on Illumination (CIE) Delta E2000 standard.