Best of the Best for 2020
The scores for the Best Phone Displays of 2020 are in. Based on reviews by the popular mobile tech media site, PhoneArena this year's crème de la crème of smartphone screens are found on flagship models from the OPPO Group—the OnePlus 8 Pro and the OPPO Find X2 Pro. Leveraging the industry's most advanced visual processing technologies in the Pixelworks X5 Pro solution, these phones powered past other well-known brands to earn this year's #1 overall display rating from PhoneArena.
The impressive results in seven critical display measurements (shown below) alone might seem sufficient for these two models to earn top honors, but these levels of performance have become table stakes for any phone to be considered a flagship.

Figure 1: PhoneArena Display Measurements, Nov. 20., 2020
The decisive factor according to PhoneArena, and even more noteworthy, was the high frame rate experience of this dynamic duo's 120 Hz dynamic display, that is, the screen's ability to adaptively switch refresh rates—an industry first. This technological milestone was achieved through a collaborative, end-to-end system engineering effort by Pixelworks, OnePlus and OPPO at the confluence of several commercial firsts:
First with Pixelworks' patented MotionEngine® technology (aka MEMC) with dual processing of video and graphics (OnePlus 8 Pro only)
First displays with automatic refresh rate switching
Among the first phones with the Qualcomm® Snapdragon™ 865 5G mobile platform
The display optimization work centered on the application of MotionEngine technology to enable superior visual quality and motion clarity for a wide range of video apps and use cases, including those with graphics, text or a GUI (graphical user interface). The result: a crisp and cinematic visual experience for consumers, regardless of the original frame rate of the content—a perfect complement to the phones' ultra-smooth touch screen performance. Watch MEMC explainer video.
OnePlus did a masterful job at visually depicting the MEMC technology advantages in a series of videos posted by CEO Pete Lau on social media, such as this favorite:
If you've seen high-quality TVs, you're no stranger to MEMC. We've created a custom MEMC chip that can push ordinary 30fps video up to 120, so any video gets the full advantage of our 120Hz Fluid Display. pic.twitter.com/YPD3fw5uOn

— Pete Lau (@PeteLau) January 16, 2020
Flagship Features Redefined
The OnePlus 8 Pro and OPPO Find X2 displays, powered by the Pixelworks X5 Pro platform, feature MotionEngine® technology, an Always High Dynamic Range (HDR) experience for all video and games (even when the orginal content is only available in SDR format), and adaptive display features that ensure viewing clarity and eye comfort for consumers in a variety lighting conditions. Other key specs of the phones include a 6.78" AMOLED screen with 19.8:9 aspect ratio, QHD+ resolution (1440 x 3168 pixels), yielding a pixel density of 513 ppi and infinite contrast ratio.

Figure 2: PhoneArena Ratings, Nov. 20, 2020.
Winning is Becoming a Habit
The winner's podium is a familiar place for this pair. The OnePlus 8 Pro matched or broke 13 DisplayMate records for visual quality, including 10 set by its cousin, the OPPO Find X2 less than one month earlier. They both received DisplayMate's highest A+ rating and on the strength of Pixelworks' patented color calibration technology, own the distinction of having the industry's most color-accurate displays across standard and wide color gamuts—with a Just Noticeable Color Difference (JNCD) as low as 0.3 (the lower is better).
More recently, in DXOMark's inaugural report covering the top models of 2020, both phones showed up strong with the OnePlus 8 Pro and Find X2 Pro ranking #1 and #2 respectively for both color accuracy and visual integrity (lack of artifacts). The main story however, is that the overall score for the 8 Pro was just one point shy of top spot—which was given to another Android phone that launched 6 months later and is priced $400 higher! When compared to its contemporaries (i.e., phones launched on the same generational timeline) the OnePlus 8 Pro comes in with the overall #1 ranking—beating out flagships of well-known brands that are $200-500 more expensive, as shown below.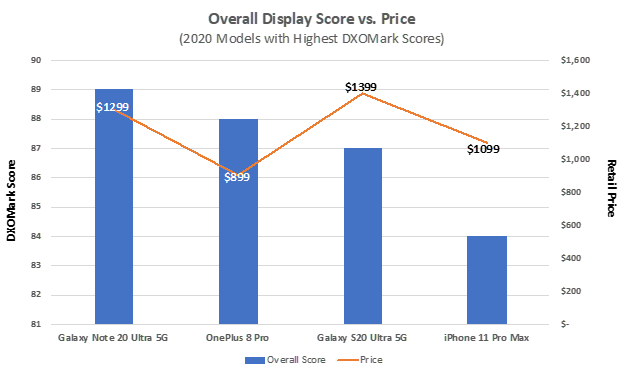 Figure 3: Display Performance vs. Price. Sources: DXOMark, Pixelworks, published pricing.
Brand-building with Pixelworks Technology
The OPPO Find X2 Pro and the OnePlus 8 Pro were the first phones launched as a result of the collaboration agreement between the OPPO Group and Pixelworks, announced in January 2020, that aims to push display performance boundaries in next-generation smartphones. Delivering on this promise, the superior visual experience not only elevated the brands of OPPO and OnePlus, but also elevated their displays—Ultra Vision and Fluid Display respectively—to a whole new level of differentiation.
Daniel Petrov, PhoneArena editor summed it up best when he said that both mimic the same great features that no other 2020 phone has in this combination.
Now what are you waiting for? It's the best time of year to step up to the best value in the smartphone Flagship tier.
Additional information: