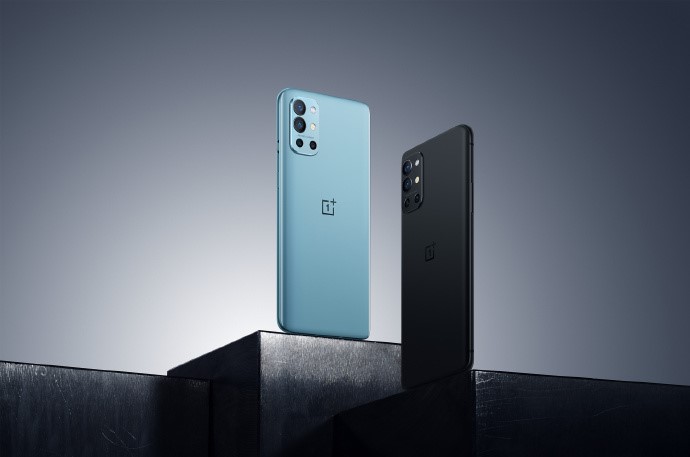 Above: OnePlus 9R in Lake Blue and Carbon Black
The newest member of the OnePlus 9 series – the OnePlus 9R – marks the first mid-to-high range product released in China by OnePlus in about five years. On April 15, 2021, the OnePlus 9R was announced for China and simultaneously released in India. This is no ordinary value tier product. Unlike other phones in a similar price range, the OnePlus 9R makes few compromises. The apps processor is a Qualcomm® Snapdragon™ 870 mobile platform, which is a step up from the 865 Plus. It sports LPDDR4X memory + UFS 3.1 flash memory, VC liquid cooling system, dual main camera Quad-camera module and a 2K 120Hz flat screen display with Pixelworks visual processing technology.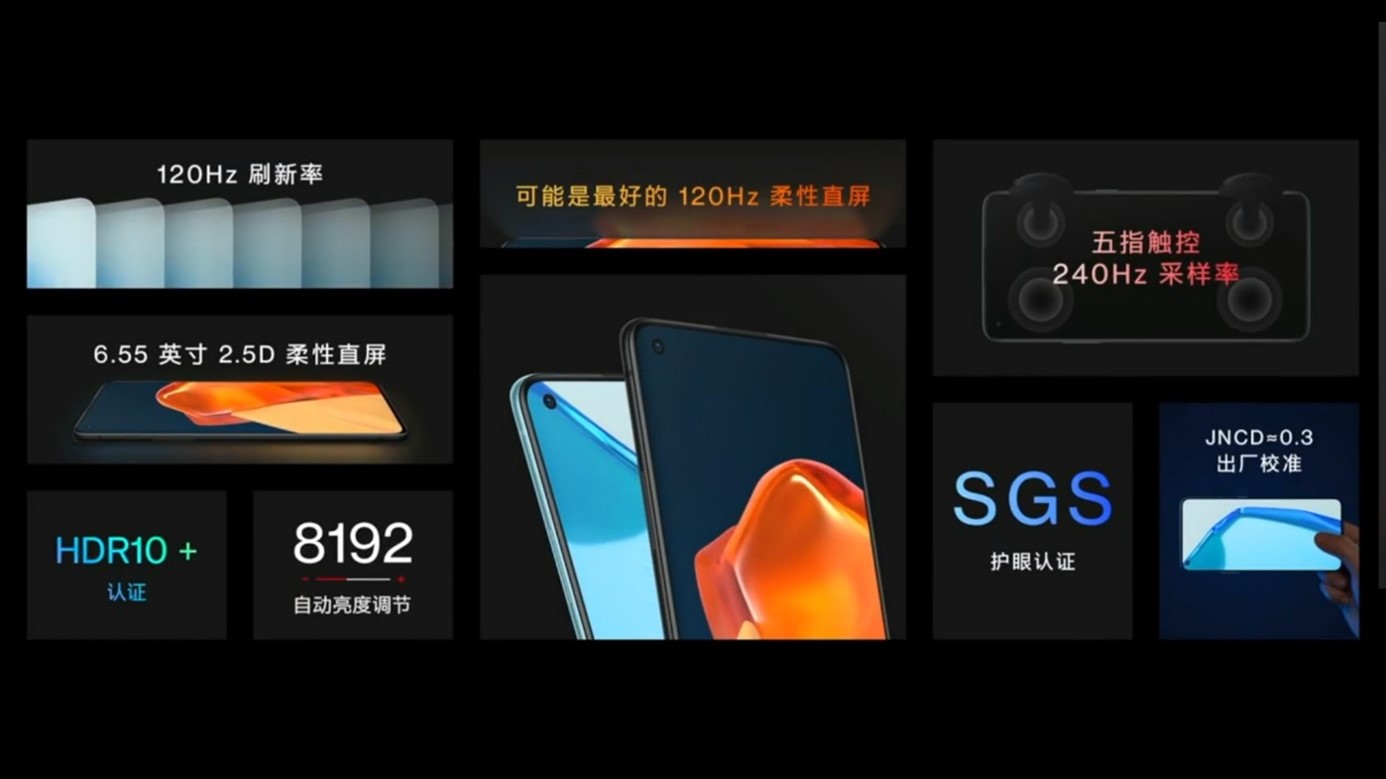 Above (translated): From top left to right; 120 Hz refresh rate, Perhaps the best 120 Hz flexible flat display, 240 Hz touch sampling rate, 6.55-inch screen, 2.5D flexible flat display, HDR10+ certified, 8192 gradients of smooth brightness control, SGS eye comfort certified, JNCD = 0.3 color accuracy (lower is better).
Source: OnePlus China online launch event
Here is the run-down of Pixelworks technologies featured in the OnePlus 9R:
Pixelworks Display Calibration and Color Management
Industry-leading Color Accuracy
A hallmark of all OnePlus phones powered by Pixelworks is display color accuracy, which is the foundation of image quality for all content – from movies to games, from photography to that bright blouse you bought online. Like other 8 and 9 series phones, every OnePlus 9R display is factory-tuned with Pixelworks' patented, high-efficiency calibration and runs the Company's color management software, enabling industry-leading color accuracy for all content, including skin tones, in sRGB, DCI-P3 and custom gamuts.
Low-brightness Color Shift Correction
Many people enjoy reading e-books, browsing short videos or binge-watching the latest shows at night. That's typically when screen brightness is low and AMOLED displays can experience unwanted color shifts. The new Pixelworks color shift correction feature mitigates such artifacts to ensure uniform color accuracy at across the entire panel, delivering OnePlus 9R users a consistent visual quality even when viewing in low light conditions. In this case, it's what you don't see that counts!
Adaptive Display: Eye comfort for all-day viewing
Our auto-adaptive display processing utilizes the phone's light and RGB sensors to automatically adjust the luminance and tone of the display to match the brightness and color temperature of the ambient light, preserving clarity, reducing blue light and offering eye comfort for those non-stop social media engagements, extended reading, movie-watching and gaming in a wide range of viewing environments.
Ultra-smooth Brightness Control
Most of us have experienced the challenge of trying to adjust our smartphone screens for very bright or dark viewing conditions. As the ambient light changes, the OnePlus 9R provides a graceful adaptation of the screen brightness to optimize eye comfort in a constantly changing mobile viewing environment.
How it works
As an extension of the Pixelworks adaptive display technology, the OnePlus 9R employs a fine-grained brightness control with 8,192 gradients of luminance, which makes screen transitions much more subtle and easily adjustable, whether in manual or auto adaptive mode.
China: The Next Chapter of the OnePlus Success Story
The rise of OnePlus from flagship killer to true flagship brand, with all the accolades and proof points that go along with it, has been breathtaking to watch. The visual quality of its Fluid displays, powered by Pixelworks technology, is at the heart of the company's differentiation. Can OnePlus succeed in China, arguably the world's most fiercely competitive smartphone market? Well, if recent performance is any indication, I would not bet against OnePlus. They always seem to buck the trends, as the following aptly titled analysis by Counterpoint Research illustrates.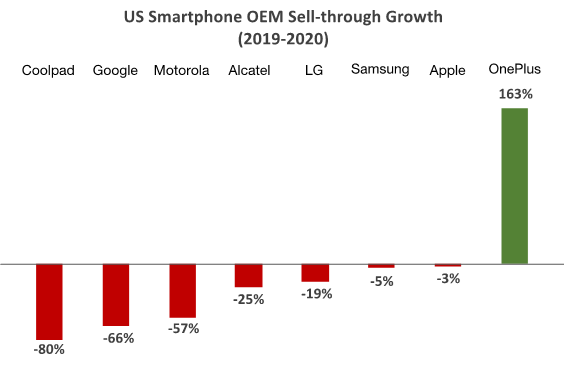 As a strategic partner, we look forward to the ongoing collaboration between OnePlus and Pixelworks, which continues to push the envelope of display performance at multiple price tiers, delivering unforgettable visual experiences for an increasing number of smartphone consumers.
More product information can be found in the following links:
Pixelworks and the Pixelworks logo are registered trademarks of Pixelworks, Inc. All other trademarks are the property of their respective owners.