What do you care about the most when playing mobile games?   Extraordinary game content + powerful mobile device?  For sure, both are indispensable.  How do you define a good mobile device for gaming?  High-definition picture quality, smooth motion, ultra-responsive touch, excellent audio performance, sustainable battery life… all of these characteristics contribute to a first-rate gaming experience on mobile phones.  But the most intuitive factor will always be the visual display quality.
Republic of Gamers (ROG) is an ASUS sub-brand dedicated to creating the world's best gaming hardware and software. The ROG Phone series is one of the most popular product lines targeted specifically to gamers.  ASUS understands how low fidelity picture quality and anything less than smooth motion can undermine a gamer's performance and experience, leading to an ongoing collaboration with Pixelworks that started at an early age.  In the recent launch of the ROG Phone 5 series, key attributes of visual display are optimized by incorporating Pixelworks i6 processor, resulting in excellent video quality and a superior game experience for consumers.
ROG Phone 5s and ROG Phone 5s Pro were launched on Aug.16, 2021 as the upgraded versions of the ROG Phone 5 series.  The smartphone is built on the Qualcomm® Snapdragon® 888+ 5G Mobile Platform with advanced Pixelworks i6 processor, carries a 6,000 mAh battery with 65-watt HyperCharge adapter. Also featuring a 6.78" AMOLED capacitive touchscreen display with up to a 144 Hz refresh rate, resolution of 2448 x 1080 pixels and 395 ppi pixel density, the ROG Phone 5s series inherits the performance advantages from ROG phone 5 series, keeping with ASUS' commitment to meet and exceed customers' demand for a premier gaming experience.
The ROG Phone 5s series enabled by Pixelworks i6 visual processor includes many advanced features:
Always-on HDR – Uses real-time SDR-to-HDR conversion to expose more detail and shades of color for the vast majority of gaming content that exists in SDR (standard dynamic range) format, providing consumers an always-immersive experience for gaming with exquisite color depth, contrast and detail. The technology is certified by top content providers, including Amazon, Netflix and YouTube.
High-efficiency Color Calibration – With Pixelworks calibration, consumers can enjoy real-to-life color for all apps and content spanning the sRGB, DCI-P3 and custom color gamuts. Every ROG Phone 5s is tuned with patented display calibration technology by Pixelworks, resulting in an average Delta E—an indicator for measuring color accuracy—of less than 1 (lower is better), meaning no deviations from perfect color reproduction can be detected by the human eye.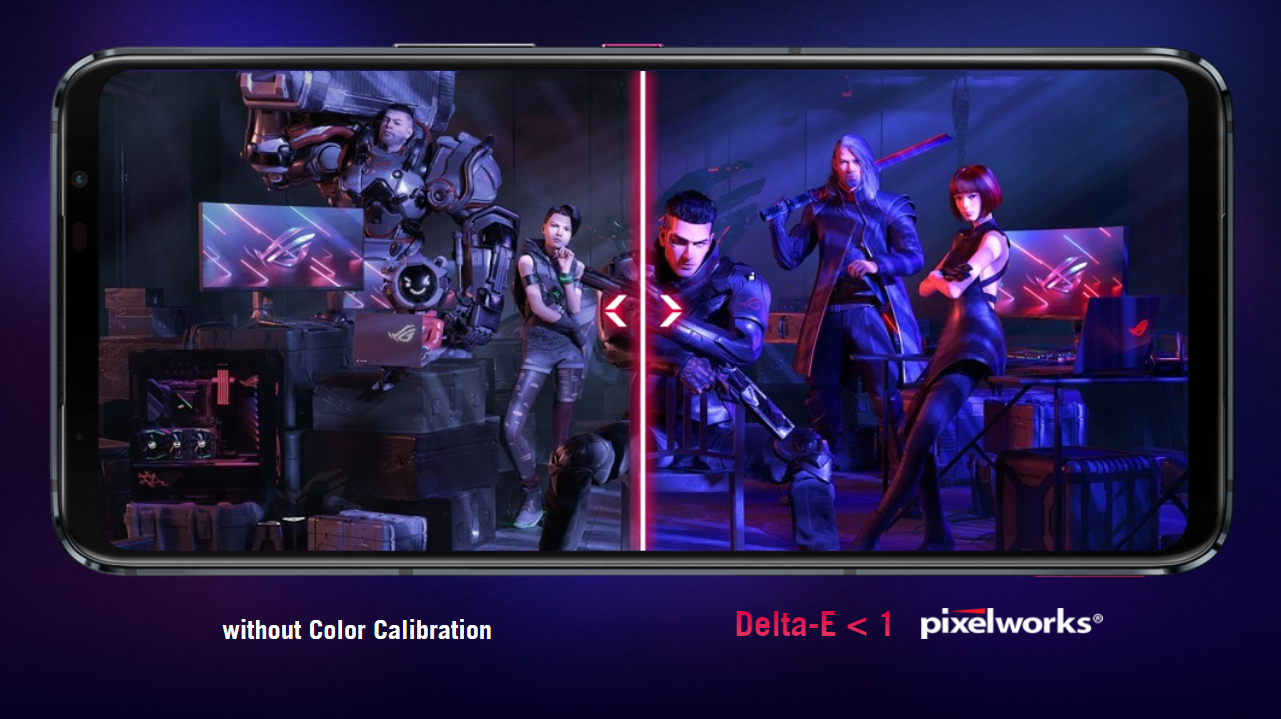 Source: https://rog.asus.com/us/phones/rog-phone-5-model/
Eye Comfort Modes – Pixelworks processor provides Daylight and Night Viewing Modes that use adaptive brightness, tone and contrast for ease of viewing in bright sunlight or dark conditions.
Mobile devices are used everywhere, from dark rooms to the sunny outdoors. Pixelworks' auto adaptive technology dynamically adjusts the smartphone's display in response to changes in ambient brightness, color temperature and content characteristics.
Smooth Brightness Control – As ambient light changes, finely tuned, automatic luminance control enables ultra-smooth display brightness transitions, effectively reduces screen flashing, and relieves eyes strain for sustained reading or watching in different viewing conditions.
Details reveal a more complete picture. For gamers, picture quality and smooth motion are key attributes to winning and outplaying their opponents. Especially when playing fast-paced mobile games, gamers need to exploit the weakness of their opponents in only a few seconds and take quick action in order to defeat enemies. Without question, strong visual display capability and an ultra-responsive touch screen play a decisive role in winning.
Through continued collaboration to combine the innovative visual processing technology from Pixelworks and a professional gaming experience in mobile device from ASUS, we are confident in our ability to redefine the limits of mobile gaming platforms and technology to bring more and more immersive and extraordinary gaming experiences to consumers.
Additional information:
Note: Pixelworks and the Pixelworks logo are registered trademarks of Pixelworks, Inc.  Qualcomm and Snapdragon are trademarks of Qualcomm Incorporated, registered in the United States and other countries. Qualcomm Snapdragon is a product of Qualcomm Technologies, Inc. and/or its subsidiaries. All other trademarks are the property of their respective owners.