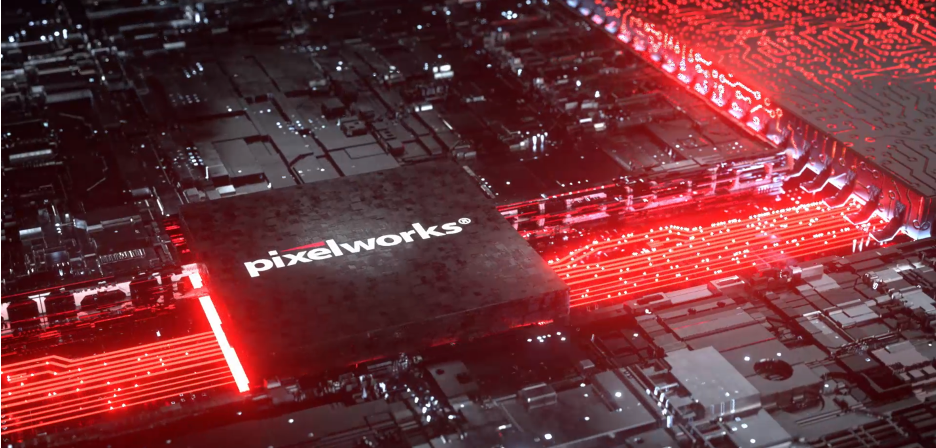 Faster, smoother, more colorful—a 5D chip
(article first appeared on jonpeddie.com)
By Jon Peddie
Pixelworks has been massaging and polishing pixels for over 22 years and they know a thing or two about what's needed and how to accomplish optimized graphics display capabilities.
The mobile space has some very specific challenges. The camera makers and display makers have gotten out of cadence in their developments resulting in different resolutions for 3-axis cameras and the 3-axis displays. Screens have gotten fantastic x–y resolution in the last few years, but not z and only recently have some high-end displays expanded to 10-bits. Meanwhile, camera sensors have increased in resolution and color depth.
And then there is the web with zillions of hours of video live and recorded at all sorts of different resolutions, color depths, and a fourth-axis frame rate or temporal. And, maybe a fifth-axis—motion estimation and control.
Any one of those parameters are challenging, tackling all four (x, y, z, and time) is Herculean, but Pixelworks has been working on these issues for years and they have homed in on key parameters to improve how mobile displays handle video and graphics that is different from the sensor or on-line source. The net result is the Iris 5 and the company says it is their best display processor, post processor, and pixel polisher to date.
The Iris 5 manages the following parameters:
High-dynamic rage employing HDR10 and 10+ and SDR to HDR up-mapping
Smart, natural motion
Auto adaptive display that adjusts to ambient lighting conditions
Dual motion processing: separate processing of video and graphics
Color accuracy across all standard color gamuts
Picture quality and sharpness—brings out edge and hidden details without distorting other parts of the image
That's a lot, and each parameter is worthy of more discussion. But first it should be pointed out that the Iris 5 is a stand-alone chip, which fits in between the application processor (AP) and the screen.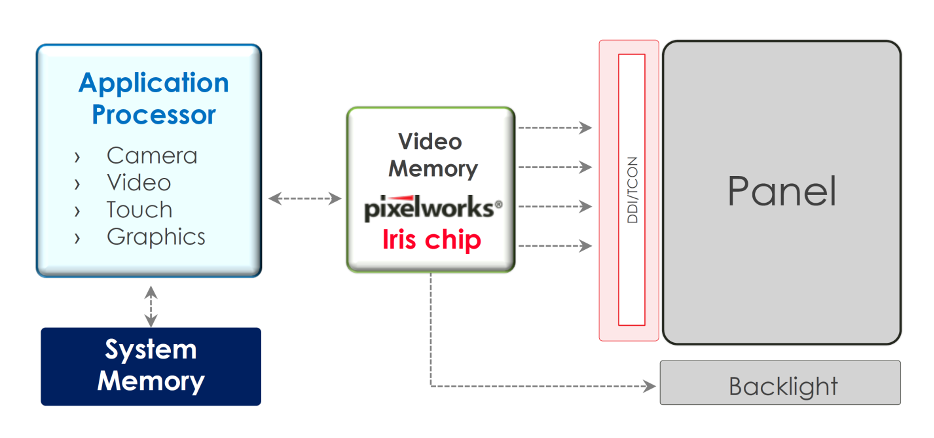 Pixelworks' Iris 5 visual processor. (Source:Pixelworks)
And, Pixelworks has taken it one step further for AP customers that have powerful enough processors. OEMs can implement a subset of Pixelworks' features in software and maintain a single chip solution.
Pixelworks' Soft Iris. (Source: Pixelworks)
In the above example, Pixelworks partnered with Qualcomm to optimize HDR tone-mapping, display calibration and color management software for use on select Snapdragon platforms.
Separate but equal. One of the biggest features of this processor is its ability to segregate video from graphics. Separate processing of video and graphics preserve overall quality for today's complex multimedia apps. Variable, content-aware processing removes artifacts while preserving original artistic intent and battery life. It detects and corrects frame rate mismatch and motion artifacts. The result is it judder-free video with natural motion appearance.
Colorful and correct. The company claims it has achieved industry leading accuracy across all standard color gamuts with average delta E as low as 0.4 (lower is better).
A Billion colors. With true 10-bit+ color range, the display can produce over a billion different shades including real (some say "true") black. Iris supports HDR10 and 10+ and dynamically upconverts SDR video, from the camera or streamed from the cloud, to cinematic HDR quality viewing.
Sharp as a tack. Iris offers sharpness enhancement which brings out edge and hidden details in an image without distorting other parts of the image. It brightens the darker areas of an image without overbrightening (saturating)the lighter areas.For LCD screens, Pixelworks has a patented tone mapping/dynamic backlight control combination that preserves dark details and bright highlights with, says the company, 3 times the dynamic contrast ratio all with low battery drain.
Adaptive. Iris adapts the display to the color temp of ambient light using an RGB sensor and reduces blue light. It automatically optimizes brightness with localized contrast enhancement, for better viewing in bright sunlight. It also offers content adjustment (saturation, sharpness), display brightness, and tone optimization for ease of sustained reading.
Dim. Pixelworks solves a key eye strain and visual sensitivity issue that can occur at low brightness on AMOLED screens with DC Dimming 2.0. To dim the screen, Pixelworks dynamically adjusts the display's current to mitigate the screen flickering associated with conventional Pulse Width Modulation (PWM) dimming.
Pixelworks says Iris 5 was designed with the 120-Hz displays in mind, and offers 120-Hz display performance with patented motion processing, as featured in OPPO's recently launched Find X2 and X2 Pro flagship.
TCL Communication also likes the technology. The company has extended its collaboration with Pixelworks for the display capabilities and performance of its smartphone lineup. Building on the launch of the TCL PLEX smartphone, the partnership combines the display expertise and manufacturing leadership of TCL and the 22 years of video and display innovation at Pixelworks. The TCL 10 Pro,10L and 10 5G are the first phones developed under the extended partnership between the two companies. TCL's 10 Pro, 10L and 10 5G smartphones are anticipated to be commercially available beginning in Q2 2020.Note, TCL is using Pixelworks' 4th gen chip for these upcoming launches (it has everything except the motion processing and HDR10+).
The big 2020 design wins Pixelworks has gotten were for the OPPO Find X2 series and now, the OnePlus 8 super (iPhone killer) smartphone. The new OnePlus 8 Pro smartphone incorporates the fifth generation Pixelworks visual processor with its motion engine technology and dual MIPI processing. The phone has a 120-Hz refresh screen there are not a whole of phones out there with that HDR and a 6.78-inch WQHD+ resolution (1440 × 3168 pixels) screen. The OnePlus 8 exploits nearly all the features using the Pixelworks Iris 5. The phone also has a Qualcomm 865 AP.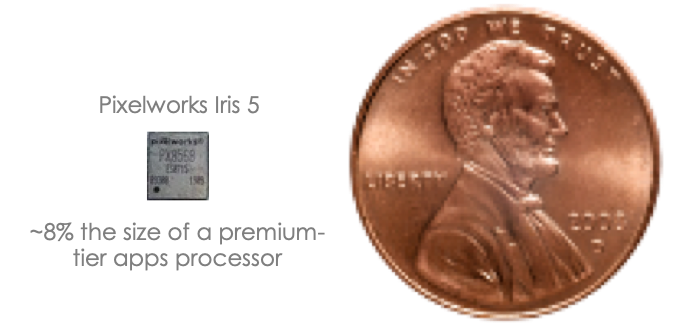 Manufactured in 22-nm ULL at TSMC, the company doesn't disclose power, but that is a major strength of the Iris 5 chip.Pixelworks' Iris 5. (Source:Pixelworks)
With Dual Motion Processing, Iris 5's MEMC (motion estimation/motion compensation) expands the amount of content that can benefit from MEMC (i.e., use case coverage) as well as the overall quality of the result. The icing on the cake is that Iris 5 MEMC, on average, consumes about 50% less active power than the previous generation when MEMC is on (leakage is also much, much lower when MEMC is not active).
What do we think?
Pixelworks' previous generation of MEMC produced a pretty good result for streaming movies (e.g., Netflix, Amazon, et al.), live TV or sports (e.g., over YouTube TV, ESPN, CNN, etc.), user generated, and other long form video content. The reasons are a combination of the breadth and maturity of the company's algorithms (optimized by type of content) and the system's intelligence: At the start of any video, it analyzes the first few frames for frame rate, cadence, motion in the frame, etc. (vs. refresh rate), to determine whether and how to apply MEMC processing for maximum visual benefit. Iris 5 MEMC goes well beyond this basic functionality.
And with 120-Hz displays (and 5G, of course) expected to dominate premium tier announcements in 2020, I'm sure we haven't heard the last of the Pixelworks story.